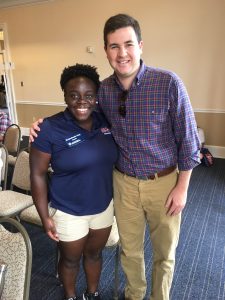 Kalyndzeyia Gray (Class of 2019) and William Fisher (Class of 2016) working at Freshman Orientation – June 2017
Luckyday Success Scholarship
$2,000 to $6,000 each year (for eight semesters)
Each year, The University of Mississippi awards eighty Luckyday Success scholarships ranging from $2,000 to $6,000 per year.  Applications are encouraged from entering University of Mississippi freshman who meet the following requirements:
Mississippi resident
ACT score of 20 or higher (or SAT score of 940 or higher)
High school GPA of 3.2 or higher (on 4.0 scale)
Demonstrate remaining financial need after awarding of other scholarships and grants.
Each year, the Luckyday Success Scholarship is awarded to eighty out of more than eight hundred applicants. The Luckyday Scholarship is highly competitive and in order to be considered, applicants are asked to meet all required deadlines.  For fall 2019 consideration, the deadline is February 15, 2019.
Luckyday Community College Scholarship
$2,000 to $6,000 each year (for four semesters)
The Luckyday Community College Scholarship is awarded to a select group of 25 community college transfer students with a 3.0 GPA on at least 48 transferable community college credit hours. Students receiving this award must be residents of Mississippi and must be transferring from a Mississippi community college. In addition, students selected must have remaining financial need as determined by the Free Application for Federal Student Aid (FAFSA) after other scholarships and grants have been awarded. Students who have attended a four-year university or college following high school are not eligible to receive this award. To be considered for this scholarship, the deadline for filing the FAFSA is March 1st and priority deadline for submitting The University of Mississippi online Luckyday Community College Scholarship Application is March 1. Selection of awardees for the Luckyday Community College Scholarship takes place in April and students awarded will be notified by letter of their selection. Luckyday Community College Scholarship awardees will take EDHE305 in their first semester.
 Click here to apply for the Luckyday Community College Scholarship for 2019-2020